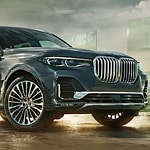 The new BMW X7 is the largest and most luxurious SUV in the German automaker's lineup. It's packed with state-of-the-art technology and high-end features, making it a true flagship for the brand.
When it comes to capability, the X7 is second to none. It has standard adaptive air suspension and xDrive all-wheel drive, making it capable of tackling any terrain. It also has a maximum tow capacity of 7,500 pounds.
Inside the cabin, there's plenty of room for seven adults to stretch out and relax. The seats are comfortable and supportive, and there's plenty of legroom and headroom. The standard infotainment system is easy to use, and the optional Bang & Olufsen audio system sounds amazing.
Additional capability features:
- Heated and cooled seats for added comfort
- Panoramic sunroof for a feeling of openness and airiness inside the cabin
- Head-up display for keeping your eyes on the road